New: Luxury Skippered Yacht Holiday
Treat yourself to a luxury sailing holiday this summer. A holiday aboard our prestige skippered yacht, the Oceanis 51.1 as she cruises the Aegean and takes in the Greek Riviera. You can visit sights like the ancient Medieval city of Nafplion and Kaparissi, (one of the 'Most Beautiful Villages of Greece'), and the cosmopolitan islands of Hydra and Spetses which are car free and rich in art. Visit far flung places away from the tourist crowds and cover larger distances, with ease as this prestige yacht can eat up the miles with ease.
Our skipper will do as much (or as little) sailing as you prefer, so you can be the one actively sailing her all week, with our skipper standing by to help; or you can choose to do very little and just relax and have it all done for you.
The perfectly relaxing break
You'll enjoy your own 'private swimming pool' off the back of the yacht, clearwater anchorages to snorkel and paddleboard in, and secret beaches galore.
About the Oceanis 51.1
The 51.1 is the latest generation, and a brand-new 2020 model. She's a spacious, elegant and cleverly designed yacht, and a very good sailing boat too! She's fast and rewarding and will cruise under power at around 9 knots, so you can cover long distances effortlessly. The emphasis is on deck living, with a very spacious cockpit, many relaxation and sun bathing areas, as well as a huge aft swimming platform.
Try the yacht on a StaySail at our Beach Club
You can book the Oceanis on a two week Stay Sail so you get the best of both worlds on a kind of 'twin-centre' break. Our Hotel Nautica Bay is found in the cosmopolitan, chic harbour town of Porto Heli, known as 'Heli' to the locals.
We've got a crack team of expert watersports instructors delivering our free and inclusive sailing and windsurfing lessons and paddlesports too. You can also get involved in our Beach Fitness classes and mountain biking with guided rides. The catering is included (Club Board) and it's the perfect break to get the kids hooked on sailing in our all-inclusive Kids Clubs.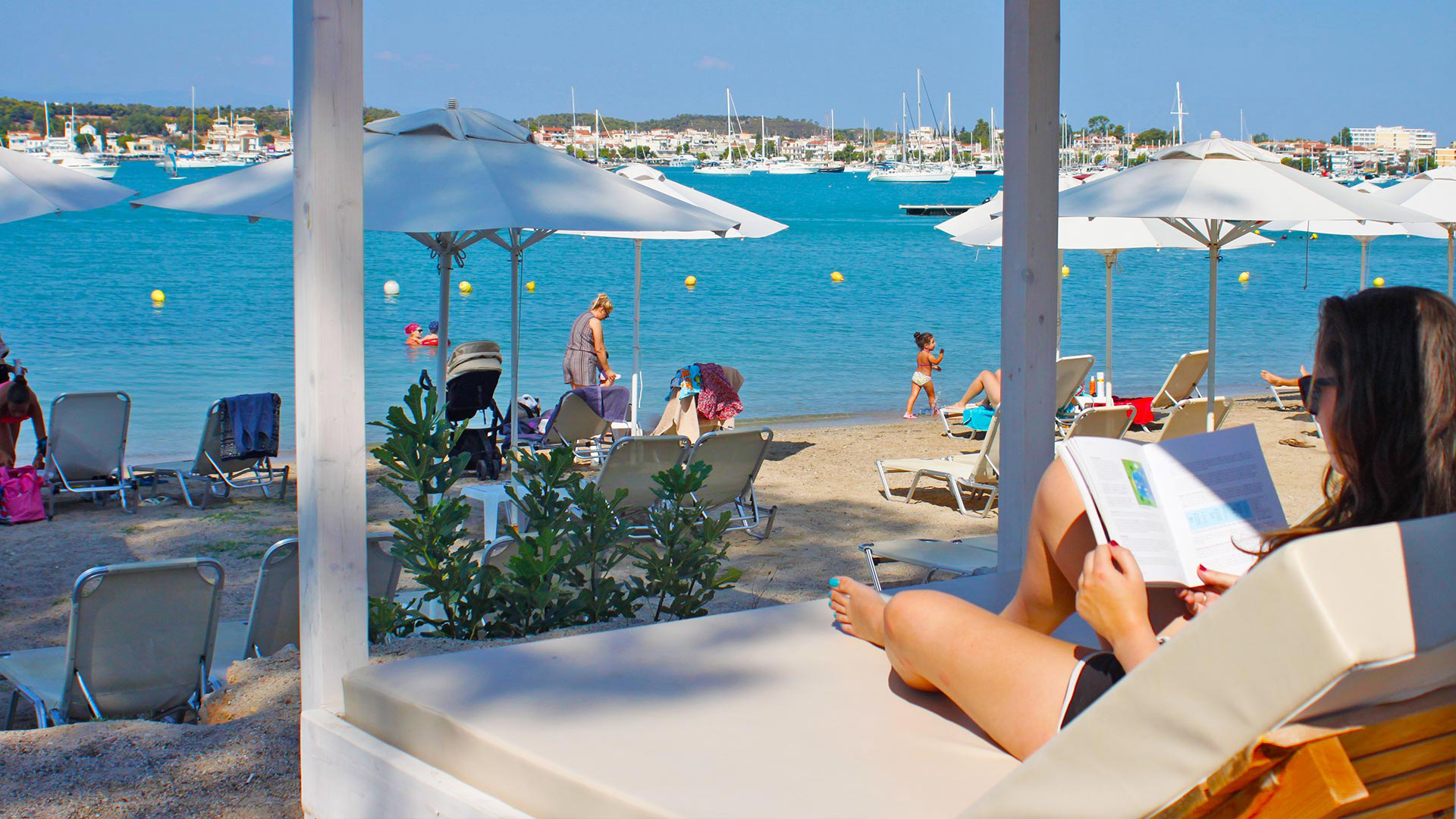 Image above - Relaxing with a good book on a week at Nautica Bay Stay Sail holiday on the hotels' own private beach
Read our review on Yachts and Yachting
Typical Cost
14 Nts: July 4-19, 2010
£1,946pp for 14Nt Staysail.
Week 1: Porto Heli Beach Club with all activities, catering and flights incl
Week 2: Oceanis 51.1, based on 8 sharing yacht. Includes skipper and flights
Extras: you will need to provision your yacht for self-catering.
Back to Blog