Real life story: Our Week on Ocean Elements' Flotilla by Lola King
By Lola King, (and her Mum)
This is a blog about our week with Ocean Elements on the South Ionian flotilla. We decided to 'Flexi-Flotilla' our week, (an option that Ocean allow so you can do a little bit of bareboating and a bit of flotilla too), but the flotilla group was so much fun that we decided to do most of our week in the company of the other boats anyway!
Day 1 Sunday
Our arrival day was pretty straightforward. The plane landed in the morning and were at the marina by midday and met by the lead crew, Ollie, Tony and Alice as we alighted the Ocean Elements arranged coach after a short 30 min transfer.
As we were 'bareboating', we asked if we could set off that same day, rather than wait for the next morning (the normal 'first day of sailing'). No problem said Ollie and the team checked us in pretty quickly, introduced us to the boats' systems and as James (my husband) knows a little about boats it didn't take long before we were off. The lead crew were great. They helped us with route suggestions, lunch stops and places to visit, even though we were half in (half out) of the flotilla. We agreed to meet the Flot' on Monday evening at Sivota. Meanwhile - we had a date with Meganissi - and so we set sail by about 3.30pm on route to this fab little island, a 10 mile sail, 2-3 hours south of Lefkas.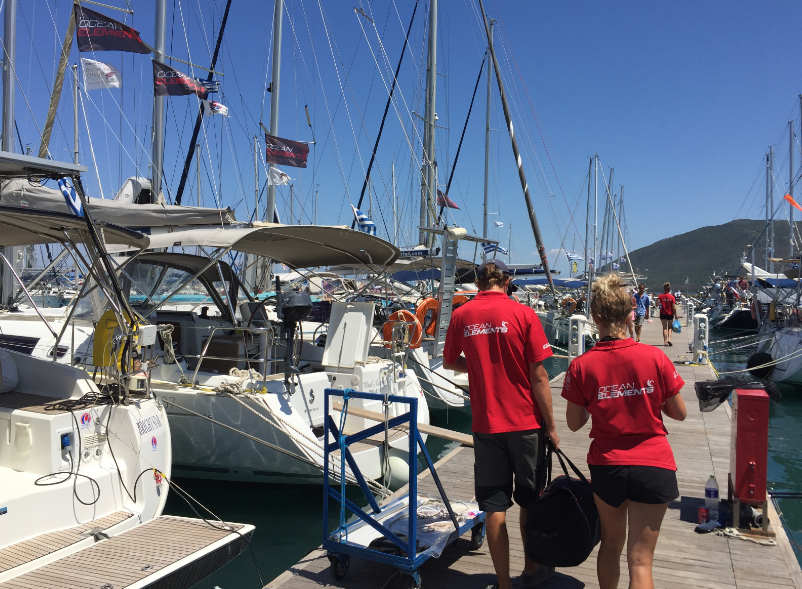 Arrival day: after a quick turnaround (thanks lead crew!) we were off to Meganissi.
Day 2 Monday
We're regulars with Ocean Elements and we love to anchor at Meganissi and do what we call a 'wild night' rather than go into the marina's. It's a great experience and the kids love to be able to jump off the back of the boat when they choose into lovely clean water. It's the feeling of independence that we love and the sheer beauty of those sunsets as you sit on deck and have a sundowner while anchored with a shore line to keep things steady.
We're always up early (partly because of the age of our children!) and what better place to wake up than the calm of a pretty bay with tempting crystal clear waters (24 degrees) for swimming? James and I often go for an early morning paddleboard or a run on shore whilst tag-teaming it with the kids. Then its breakfast. A great meal to have whilst planning the day's adventure - which is always fruit and yoghurt based because the Greeks do these things so well!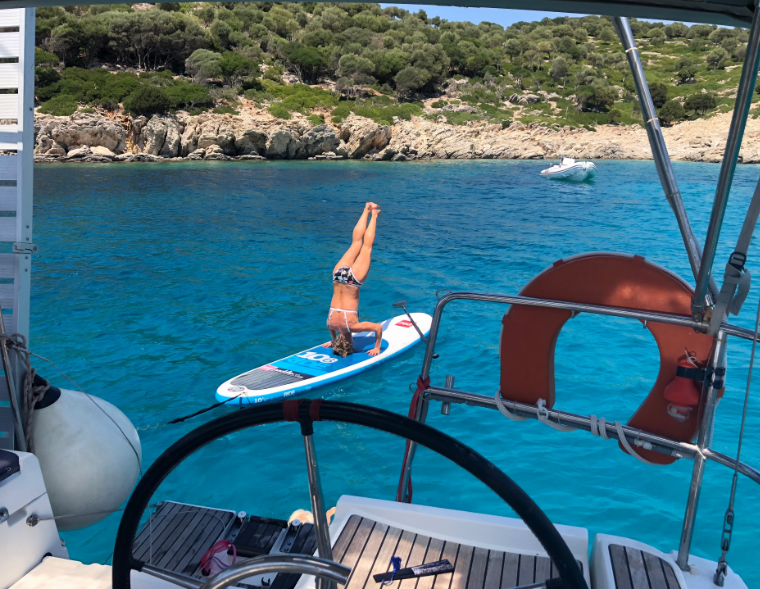 Not quite paddleboarding in the traditional sense, but this handstand took a week of practice, so it's worth documenting!
With Sivota as our next stop, there was no real planning needed. Just the decision to either go left or right out of the anchorage; the latter enabling us to do more sailing right around Meganissi (20 miles) and the former, cuts the journey to a shorter 12 mile sail to Sivota, and a chance to take a long lunch at one of many clear water anchorages along the way.
Planning is pretty easy in the Ionian, because the weather pattern is largely the same: calm and benign in the mornings with a slowly building wind (never too boisterous) in the afternoons. Ideal for the family where the kids don't like too much tippy stuff and James still gets a few hours to sail the boat, which he loves. And part of the reason we like Ocean is because they always have a nice selection of sporty boats. We got into Sivota at about 4.30pm. It's a busy place and berths alongside the quay are the preference (to anchoring in the bay), because the town is so picturesque and well worth ambling around. The crew at Ocean always get you a mooring alongside the taverna that we go to for a group meal with the other boats
We got into Sivota at about 4.30pm. It's a busy place and berths alongside the quay are the preference (to anchoring in the bay), because the town is so picturesque and well worth ambling around. The crew at Ocean always get you a mooring alongside the taverna that we go to for a group meal with the other boats.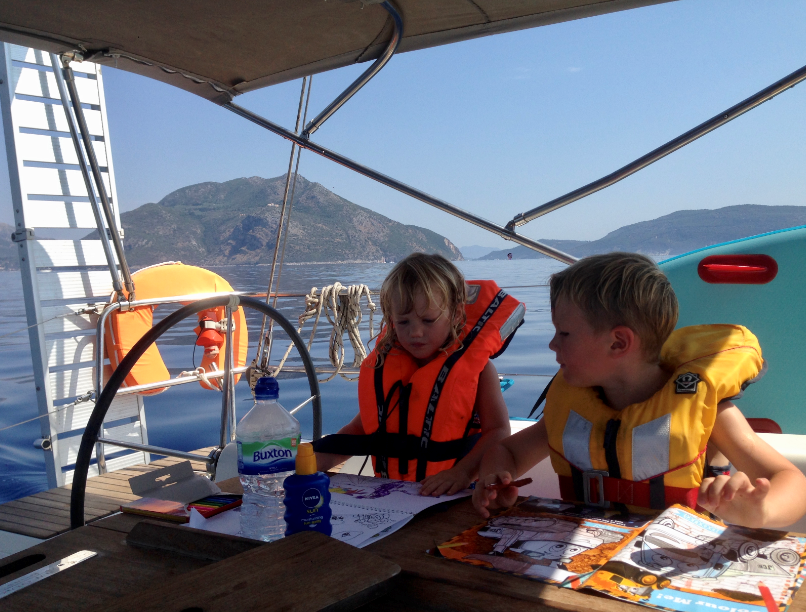 The little uns' completely at peace as we motor-sailed before the wind piped up and allowed us to sail the rest of the way. Life jackets possibly not needed in the cockpit.
Day 3 Tuesday
After a great evening meeting the other sailing folk with the Flot' we woke up with bleary heads but ready and raring to get going for our favourite anchorage 'One House Bay' on the island of Atokos. The Flotilla crew also decided to have a beach BBQ on the island and moor up the boats there for a 'wild night' at anchor (which is never actually wild!) and I have to say this turned into one of our most memorable evenings.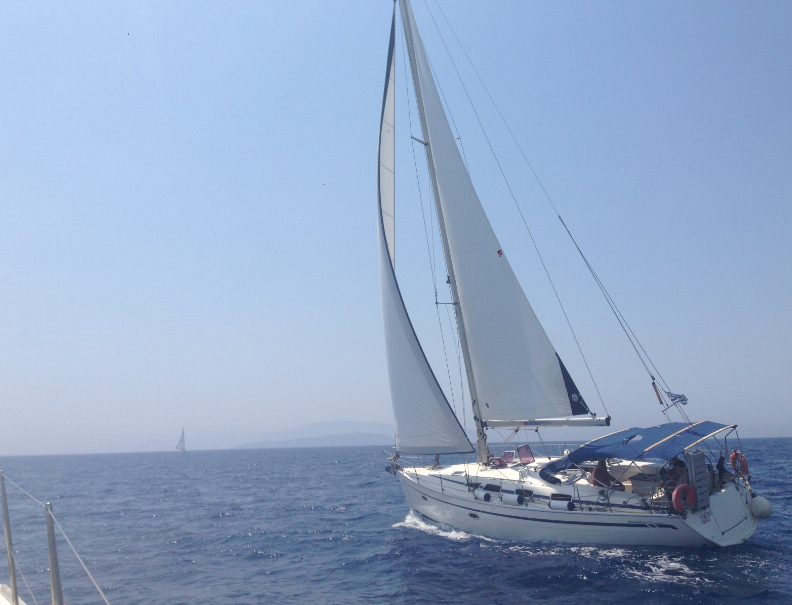 Fellow-Flotilla boat: a Bavaria 40 'Olympia' which we are (of course) overhauling on the journey from Sivota to One House Bay.!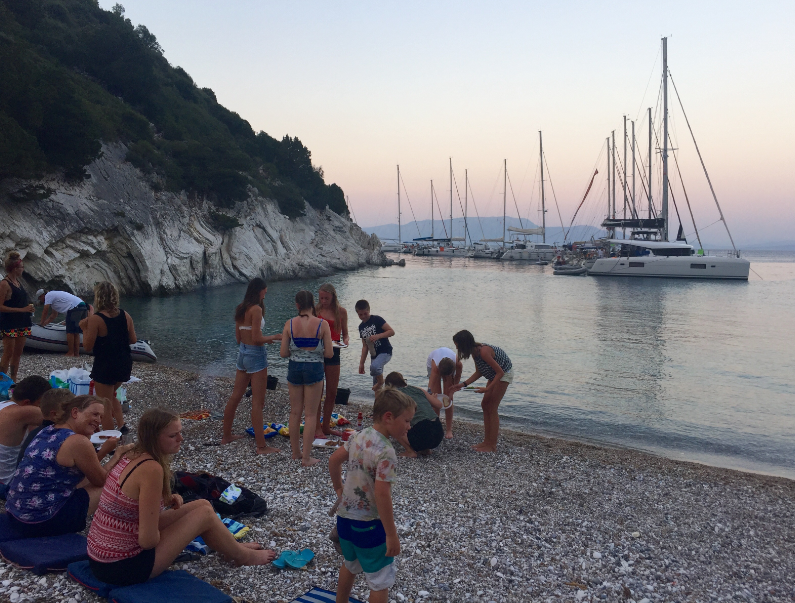 The Ocean Elements Flotilla and 'BBQ night' at One House Bay where we stayed anchored for the night. A great experience.
Day 4 Wednesday
After another great night of socialising and possibly a little too much Metaxa (local Greek grog) we rubbed our eyes and experienced the most incredible morning - waking to a stunning and unobstructed view of the ocean from our quiet and peaceful anchorage. It was straight onto the paddleboard, then into the dinghy and a quick walk ashore to exercise the kids before we set off for Fiscardo, the beautiful Italian-inspired village on the island of Cephalonia.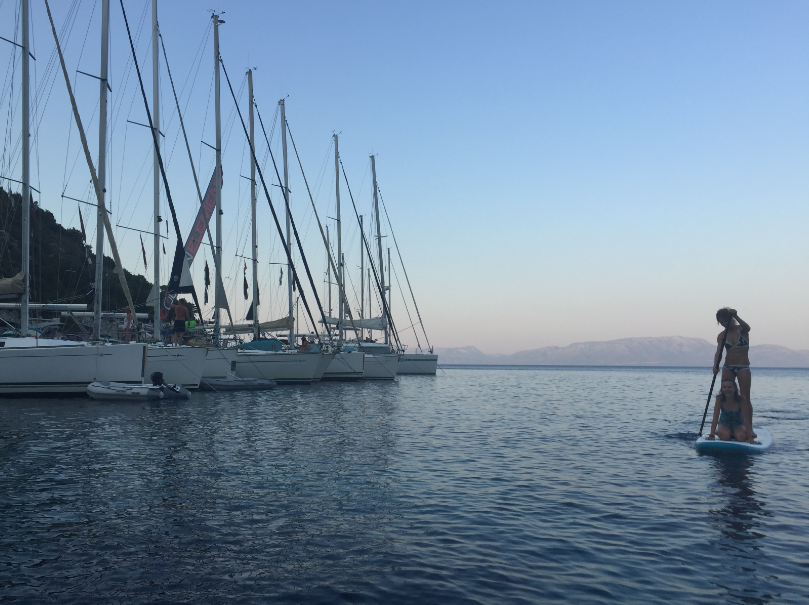 Paddleboarding past the parked Flotilla boats to the beach
We set sail mid morning after a late breakfast or bacon and eggs and with very little wind and enjoyed a few hours of slow sailing (James rarely uses the motor) whilst playing board games and listening to story books (whilst the kids played lego on the cockpit table). As we rounded the island, the wind piped up and we had a glorious fetch with the wind at 60 degrees to our destination, which came far too quickly we were having so much fun! Some boats, we noticed, went the 'long way round' to Fiscardo which is always an option if you want to get some more sailing in. We always like to get to Fiscardo early, the anchorage is a tricky one and it's always useful to have the Ocean crew there to help you get tied up. An expert you might be - but with the wind blowing in teh wrong direction (as it always does!) - some precision stern to mooring is needed to raft up to other boats. But the reward is excellent. The most glorious swimming pool off the back of the boat and the most incredible village and selection of italian inspired eateries ashore.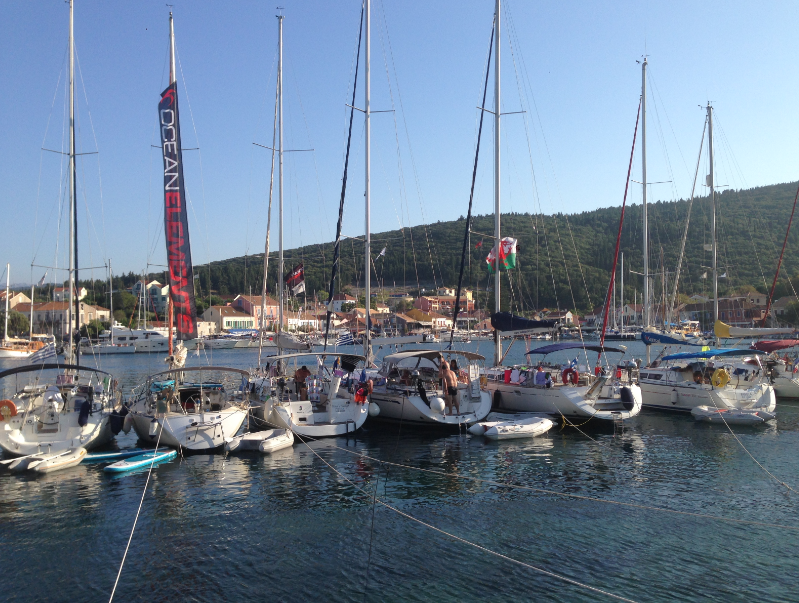 The OE flotilla at Fiscardo. We love this place, but you'll be glad of the Ocean Flot' team to get you moored up!
Day 5 Thursday
It's never allowed (by me) to leave Fiscardo too early, without having done our favourite morning walk along the shoreline to the old lighthouse. This 30min walk (each way) runs along some of the most stunning coastline. After our mandatory leg-stretcher, it's back to the ship for coffee and anchor hauling, which is always pretty easy because it's on an electric windlass!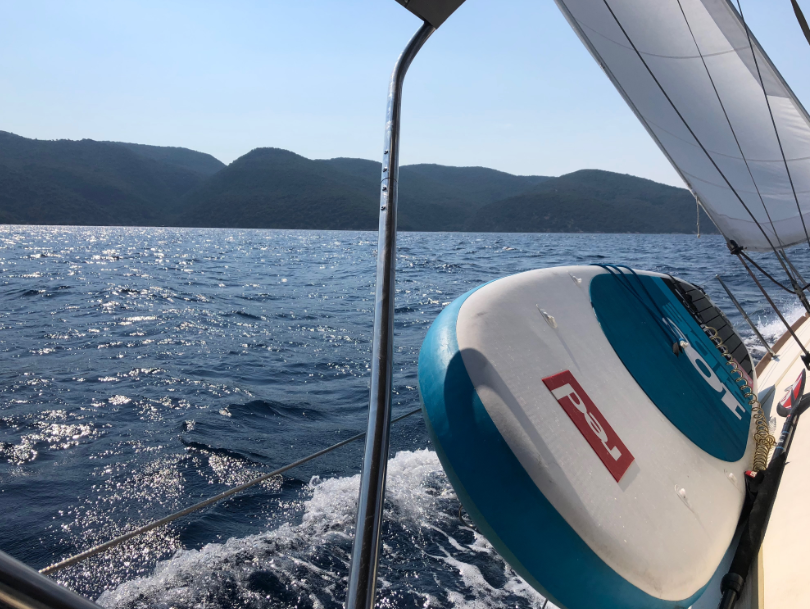 A nice fetch over to Kephalonia and Fiscardo
Next stop Vassiliki (or Vass to the locals) where the Ocean Elements Beach Club resides and the kids get their turn to go crazy in kayaks or sailing dinghies and meet other kids, too. The instructors are all brilliant with kids (and husbands who like to sail) and because Ocean give us a ll a complimentary 'free day' there - it's rude not to take up their offer and enjoy the facilities!
Day 6 Friday
Its nearing the end of our week and we have to start making our way back North (East) towards Meganissi and on to Lefkas. Vass' was a blast. The marina is pretty basic but we got some much needed water to top up our tanks and had a delightful meal the night before on the quayside next to our boat.
We woke up (again too early!) but at least with clearer heads. After a short supermarket shop 50 metres from the boat, we headed off for lovely lunchtime anchorage on route for Meganissi which is a few hours sail away. More story books, lego and sailing for Ben (age 7) who is now getting quite adept at tacking the boat and using the winches with dad close by. Sailing boats with twin wheels are great for coaching aspiring kids and the Ionians are so predictable you never need to be at sea for more than 3-4 hours (unless you want to).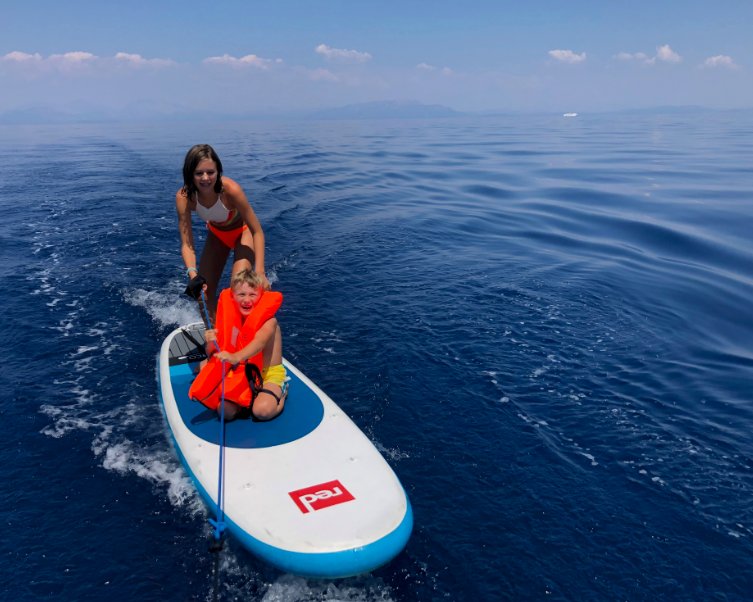 Paddleboard surf-tow off the back of the boat, doing about 5 knots up to our anchorage.
As the wind piped up in the afternoon, we enjoyed a fast run up the channel to our night's stopover and decided this time to put into the town at Little Vathi rather than wild anchor-it. Little Vathi has a sunken sea plane to paddleboard around, and a lovely taverna (the Rose Garden) run by the most hospitable family you are ever likely to meet. They also do a mean cooked breakfast if you're getting bored of the staple 'yoghurt and fruit' combos.
Day 7 Saturday
Our penultimate day! Awwwh. The boat has to be back tonight (by 4pm) but it's an easy 10-12 mile sail which always affords some force 3-4 winds and a faster action-paced sailing on the final day as the predominant wind always seems to funnel down the last straight - aided by the mountains surrounding Lefkas. It means that we all leave on a high and all our crocks go flying because we always forget to put them away. But what the heck, we're sailing, it;'s our last day and it's so much fun!
That evening is a fun time with the other boats, catching up on the week's antics, swapping tales and being thoroughly entertained by Alice and Tony at the awards ceremony. Our award was for some misdemeanor or other, rather than for corinthian spirit, courage or sheer skill at sailing!
Conclusion:
There's never enough time in a week to really get stuck into this incredible sailing area, with so much to do and see, we've decided to do not two, but three weeks next year!
And is the sailing 'enough' for us. We think so. James is a very regular racing sailor back in the UK and for him a holiday is one with absolutely no stress, the right amount of sailing and one where the kids love it and (me) the wife loves it too. All boxes ticked!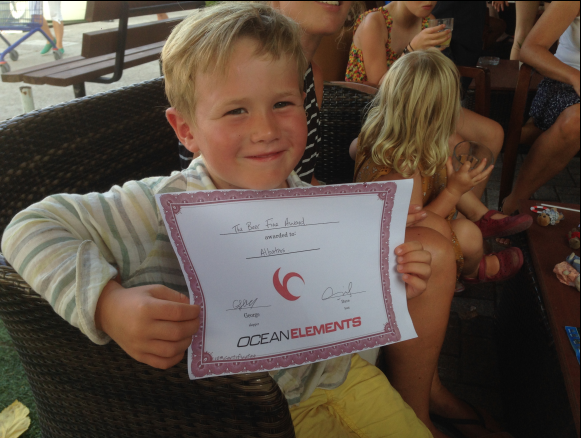 Ben with our end-of-week-award for something or other, can't remember what we got the award for!
Back to Blog