Simon Winkley - Windsurf Coaching Weeks
Simon Winkley is a top windsurfing coach who is a regular out in our Beach Club in Vassiliki. He trains our staff to become varying levels of RYA Instructor and runs guest coaching weeks in June/July each year which cover every level except complete beginners and upper advanced. Bookings are now open for these windy-season coaching weeks in 2018: choose from 17-24 June, 24 June-1 July or go for the 2-week deal. To book please contact sales@alpineelements.co.uk or 020 8947 2113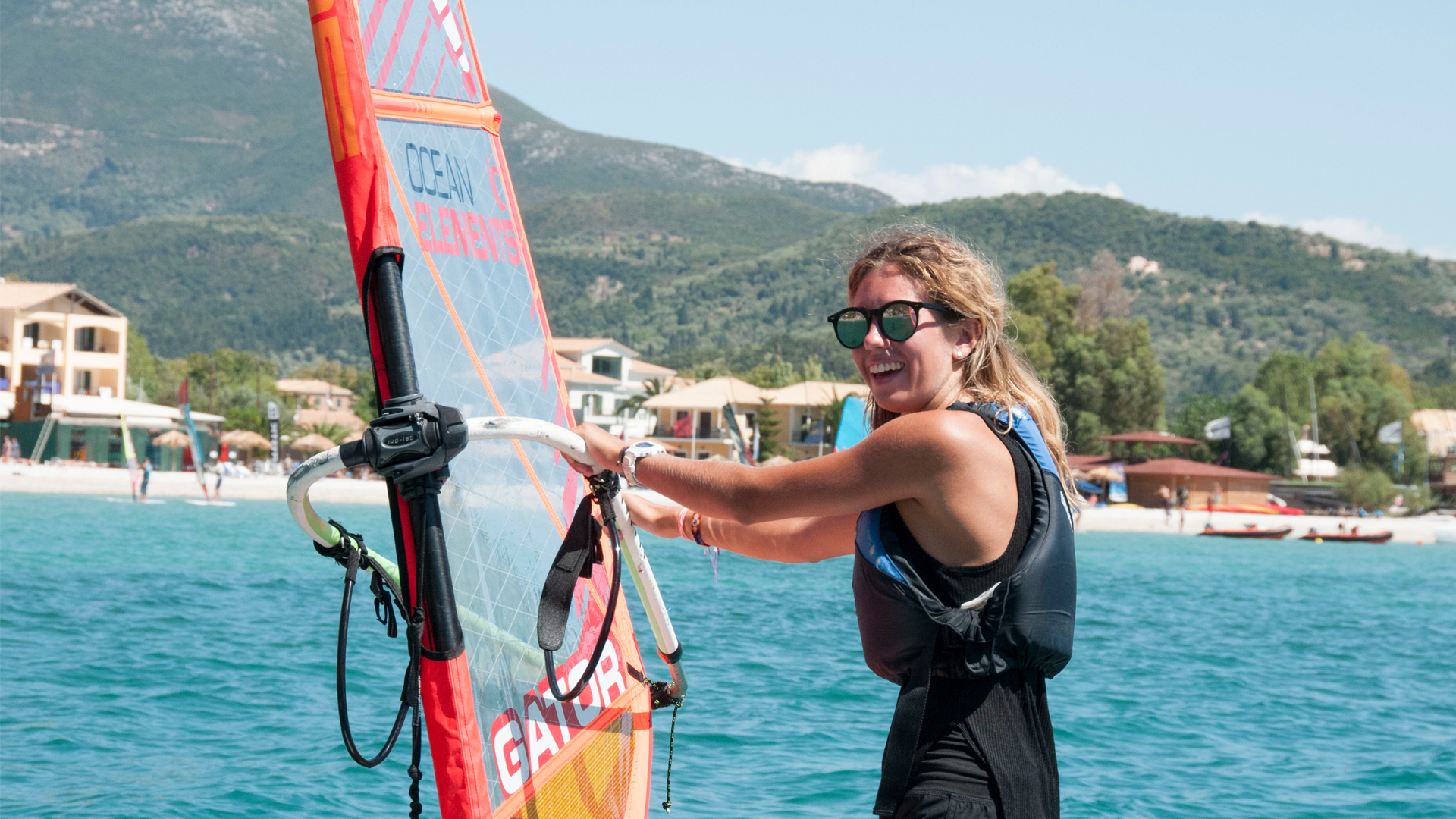 In order to help you to get to know Simon a bit more we met up with him to throw a few questions his way.
Hi Simon, thanks for popping in to see us. Tell us how you got started in the sport.
It's great to be here thanks! I got into it many years ago in a centre in Greece, helping the instructors out by fetching and carrying kit. Initially I was the only member of the team who knew nothing about windsurfing which really gave me the focus I needed to move forwards. I got out on whatever kit I could lay my hands on whenever I had a spare moment. Light winds, strong winds – it was all good!
Where did it go from there?
Essentially that experience started me off in a new direction. Since then I have had the good fortune to have worked and travelled with windsurfing all over the UK and across the world in locations such as Australia, The Caribbean, Egypt, Turkey, Italy, France, Dubai, Saudi Arabia, Menorca, Cyprus, The Canary Islands, Turkey, Bermuda, Sardinia, Spain, Corsica and Croatia. Living, working and windsurfing with inspirational people from all walks of life in so many great locations has been (and continues to be) wonderful in so many ways.
What are the main elements of your work?
Whilst windsurfing is my main focus I also coach dinghy sailing and run RYA instructor courses in both. Inspiring the next generation of instructors is important to keep sailing and windsurfing fresh as we welcome newcomers to these sports. Also, to keep my mind sharp and to stay busy all year round, I do sport development projects and centre inspection work for the RYA, run a small boat repair business, deliver first aid training and train young people in navigation and hillwalking techniques. It's all work that's creative, engaging and mostly outdoors.
I deliver coaching anywhere yet there are a few key places where I operate regularly, namely Queen Mary Sailing Club near SW London, UKSA in Cowes, The OTC in Weymouth, Southampton University and, of course, Vassiliki with Ocean Elements!
What about your links to certain brands?
I am very lucky indeed to be a Team Rider for Starboard UK and Severne UK. These are the same brands used by Ocean Elements in Vassiliki. Being part of this team means having equipment sponsorship with a support network which really helps me to get the very best from every session on the water. The kit is simply world-class and having the most up to date boards, sails and hardware is fantastic. I am also sponsored by Spinlock (for all all my personal floatation devices) and supported by Starboard SUP UK (for my stand up paddleboards) and Bray Lake Watersports (who look after any other kit I need through their excellent shop in Berkshire).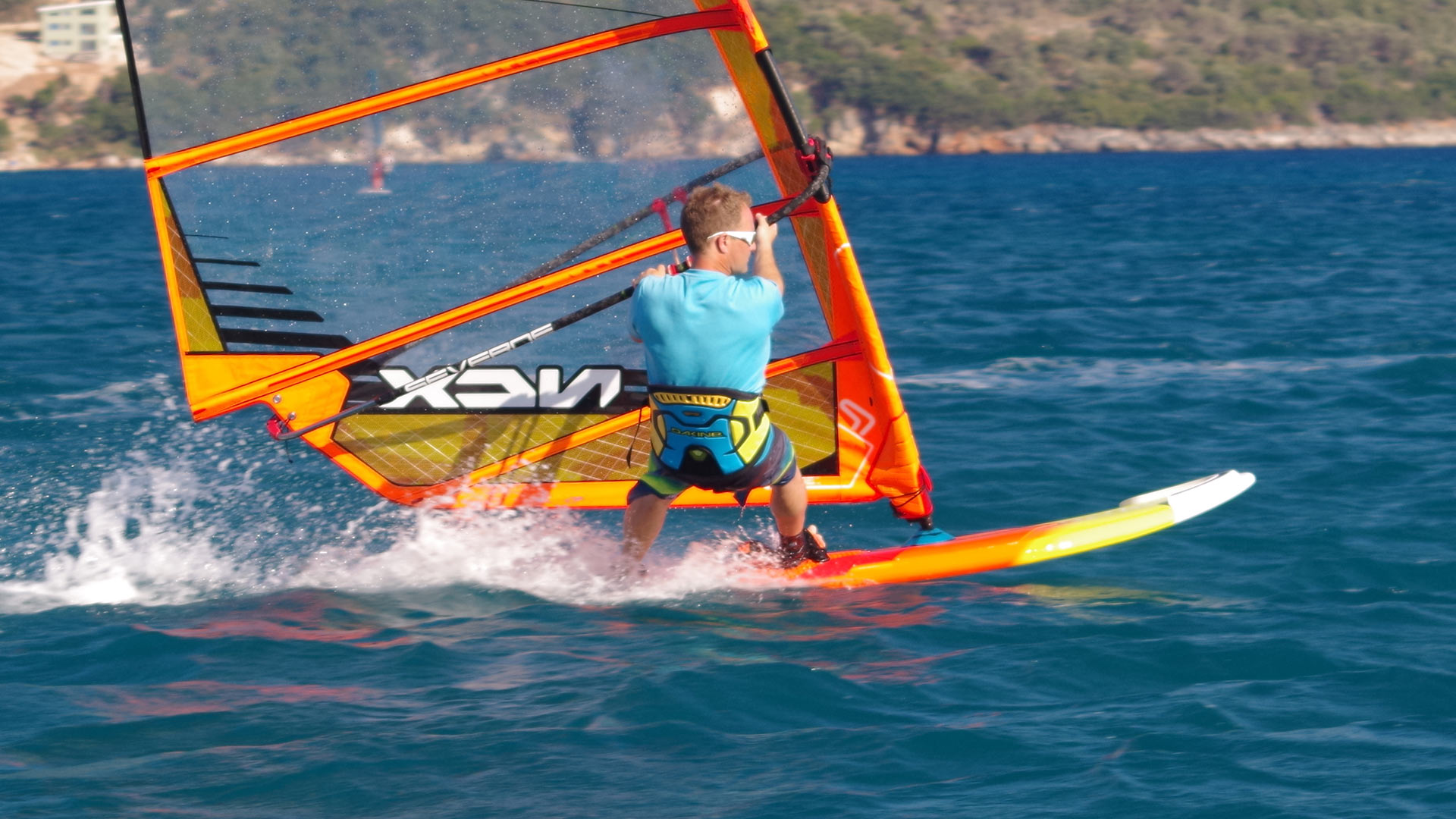 We've been reading your 101 articles in Windsurfing UK magazine and they look great and read really well. Tell us a bit more about that.
It's exciting to be involved with this new and forward-thinking mag which has been around since the end of 2016. It is easy to identify with as it has a very strong UK focus. My coaching articles are 101-style so explain - using photos, original illustrations and easy-to-digest principles of physics - all about how windsurfing things work. The style is very different from the typical photo-sequence articles and I hope they are helping people to get a solid understanding of the essential ingredients of our sport. I firmly believe that understanding this stuff can remove any mystery on the water so learners can evolve their skills without mental barriers to progress. So far I have covered how a windsurfer works, planing, non-planing steering and carving. Future articles are planned for UK coastal sailing on the lumpy stuff, foiling and various approaches to understanding kit. Hard and e-copies are available:
http://www.windsurfingukmag.co.uk/home/windsurfing-uk-subscriptions/
There are many types of windsurfing. What's your preferred style?
At heart, like the vast majority of windsurfers, I am a freerider. Sure, I love to get out in the waves and hit the ramps when I can but having the skills and confidence to turn up at any freeride location in the world and to go for a blast has always been important to me and still is. Wherever you are: on the open sea, in a bay or on an inland lake and whatever your backdrop - mountains, palm trees, moorland or high-rise buildings - it's all the same thrill.
Recently I have taken up foiling and I'm really into it. After not too long I was able to glide silently over the water at speed for over a kilometre. It is like a newly-discovered level of windsurfing and it feels simply awesome. My kit of choice is the latest Starboard Foil 147 board and Starboard GT foil. I recently became one of the first ever RYA WINDFoil instructors and some centres are making plans to roll-out the new RYA pilot scheme in 2018…watch this space!
How do your Vass coaching weeks run and who should book on?
Guests arrive on Sundays on the regular weekly transfer and, after being welcomed and briefed by the team and myself, can go out windsurfing to blow the cobwebs off. The next day is the first of 6 full coaching days which are included in the holiday cost. Light-wind mornings typically have a relaxed feel with a look at video footage of the day before plus simulator coaching or kit chats then getting afloat to work on core non-planing skills. Afternoons aim to work on confidence building, new skills and refinements in the famous Vassiliki cross-shore! Days draw to a close with social drinks/beers, laughs and stories of great endeavor before eating out together either at OE's Surf Hotel or in one of the many wonderful restaurants in and around Vassiliki. There's no pressure at all to participate in every session or to attend socials yet most people do get fully involved as it's a great way to have a fun holiday and to share experiences with a like-minded group.
Anyone who has done a little bit since their beginner course would be very welcome as would those working towards more competence in speed and carving manoeuvres. Time is apportioned as carefully as possible to help all the group to progress.
The coaching weeks cover all techniques and skills within the intermediate to early advanced category…to boost confidence levels (especially in stronger winds) and work on core skills such as tacking, gybing, getting up to speed, blasting, beachstarts, waterstarts and carve gybing. There's just no limit to learning. If someone thinks that they are fully up to speed with carve tacks, for example, then I would be keen to get them doing it quicker, smoother and more efficiently, perhaps on smaller boards and perhaps adding in windy heli-tacks or upwind 360s. I am always keen to work with those who have been away from windsurfing for a while and want to get back into it but maybe need help to understand the latest kit and techniques.
How are guests responding to the weeks?
Really well thanks with a good number of repeat bookings as they have all had so much fun and make loads of progress. Here is some feedback from the 2017 coaching weeks:
"Having not windsurfed for 10 years a friend convinced me to sign up for a weeks windsurfing tuition with Simon Winkley in Vassiliki. I was extremely apprehensive - would I be back to being a beginner and would I make an idiot of myself? I needn't have worried…after just one day of Simon's instruction I was back to where I had left my windsurfing 10 years ago and from day 2 onwards things just improved." Andy
"I had the best windsurfing holiday ever as Simon's enthusiasm and constant energy for coaching is so inspiring. His style is rich in detail yet explained and demonstrated in an easy to understand and entertaining way. We all received bespoke analysis of our technique throughout the week and I came away with numerous ideas and tips to help me to continue my progression. Looking forward to 2018!" Maria
Some participants are keen to continue the learning back in the UK so I have a number of weekends running at The Official Test Centre in Portland harbour in Weymouth which has great wind stats and is a superb location for learning new skills (booking: info@simonwinkley.com) 2018 dates: 17/18 March, 28/29 April, 28/29 July.
Well Simon, thanks very much for your time. I am sure some of our customers who have not yet experienced one of your coaching weeks will be calling us for more details!
My pleasure, thank you.
Back to Blog