A Solo Yacht Race to The Azores
On the 1st of June 2019, our MD James Hardiman will embark on a journey of a 2,000+ miles from Falmouth to the Azores and back, for two great causes- Sail 4 Cancer and Nurdle. The race will take a minimum of 9-10 days of non-stop racing, and to make matters more challenging, our MD will be competing Solo! This non-stop, singlehanded yacht race is across a serious piece of ocean where competitors must battle hard with sleep deprivation and sea sickness, to name but a few of the challenges which lie ahead!
Fluke IV – Ocean Elements
Fluke is a J105 and James is known for his meticulous detail to his boats - as a solo racer there is no space for breakages as there's no one to help when something goes wrong - so the boat has to be A1, especially for an oceanic race like the AZAB. The AZAB race claims a lot of retired boats due to breakage. In all cases the adage remains true that you first need to finish to win it - or at least stand a chance of a good place! The 725 is a great addition to our fleet, you can charter your very own yacht here. Our MD has done about 17,000+ miles solo and shorthanded yacht racing (mostly solo) and at least 7 seasons of solo racing, (on and off), with the Solo Offshore Racing Club.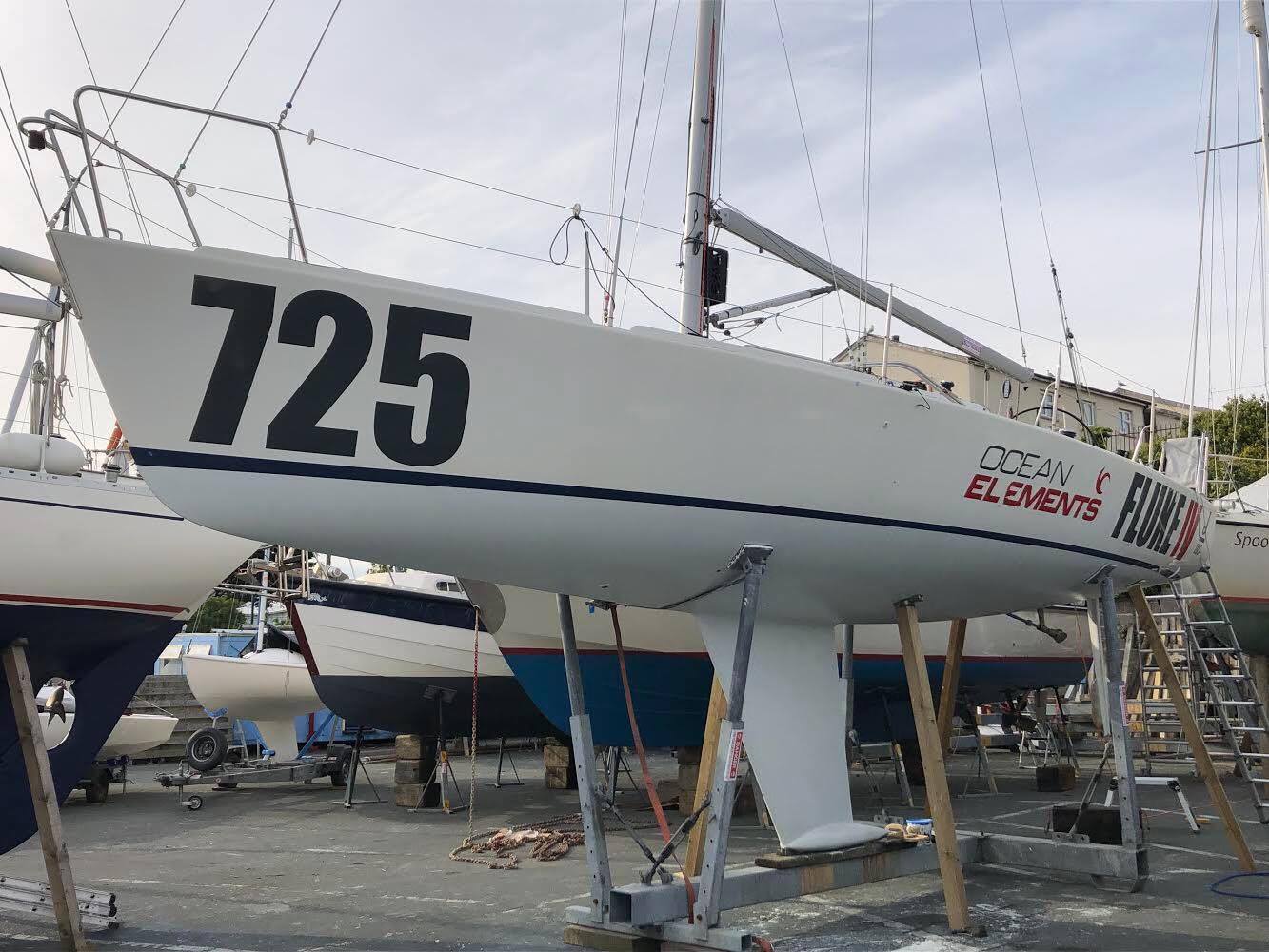 Image above, Fluke IV, the ocean elements racing yacht is due to hit the water, later today after many weeks race prep for MD James Hardiman's single handed AZAB race.
Sail 4 Cancer
James aims to raise a total of £2,000 which he plans to donate to Sail 4 Cancer; a great charity very close to our MD's heart. At Ocean Elements we have also enjoyed raising funds and receiving cancer sufferers on our holidays as a form of palliative care. All donations will be much appreciated, from £2 to £20 to...sky's the limit! It's a great cause helping real-life cancer sufferers with palliative care.
Please donate to Sail 4 Cancer here.
Nurdle
In addition to this, I hope to raise a total of £2,000 for Nurdle for one machine to be developed. Nurdle make sand sifting trommel machines, to aid in unearthing buried plastic from the sand. Their sieves are specifically designed to remove as much plastic as possible whilst leaving all the sand and as much organic matter on the beach. Our MD is also raising awareness of plastic in our oceans, look out for 'Plastic Free Coastlines', by Surfers Against Sewage logos pasted over the hull.
Please donate to Nurdle here.
Back to Blog