Delivery Route Flotilla – Discover the Hidden Treasures of The Ionian
Get a taste of the hidden Greek treasures you could discover on our Delivery Route flotilla taking off on the 7th July 2019, for a whole week. This is a special route led by our flotilla lead boat crew from Athens to Lefkas. The journey begins with a flight to Athens from Gatwick Airport. Once you've landed at Athens International Airport, there will be a short 30 minute transfer to Alimos marina where you will meet your lead crew and be introduced to your yacht. Alimos is the largest marina surrounded by the city, with a great selection of shops, restaurants, bars and clubs.
Day One starts off with a bang! A 35 mile sail from Alimos to the ancient city of Corinth, this usually takes 6-7 hours. The evening can be spent at one of the fantastic Greek tavernas ashore or onboard your yacht free swinging in the bay.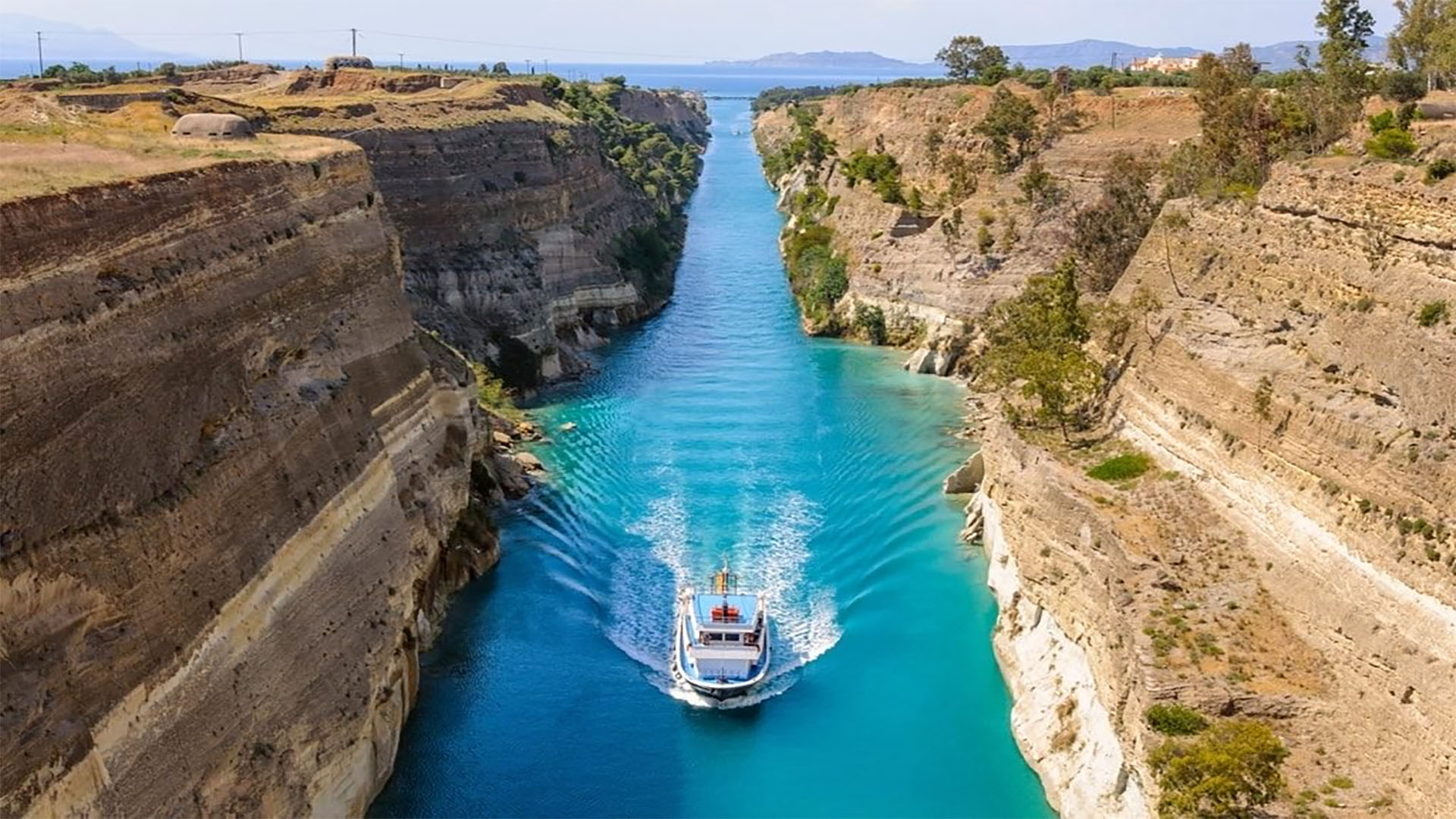 The Corinth Canal
The next morning, we will start early to transit the iconic and stunningly beautiful Corinth Canal, before enjoying another long but very pleasant sail through the Gulf of Corinth (36 miles) to the picturesque town Galaxidi on the Peloponnesian coast. The Corinth Canal is only 70 feet wide at sea level, the canal expands to a width of 81 feet at top of its 300 feet high rock walls.
Did you know?
Around 12,000 boats pass through the narrow canal each year.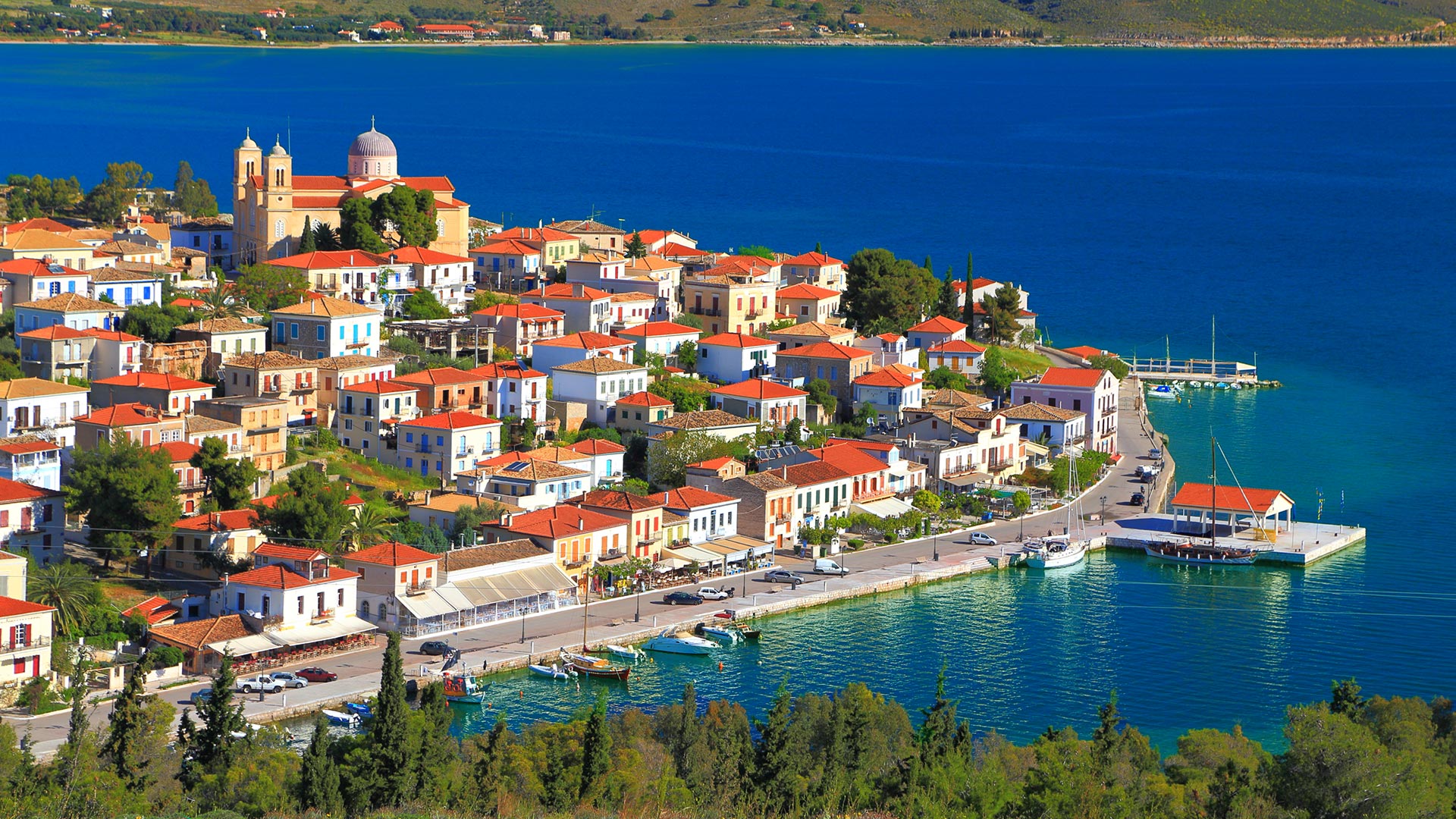 Galaxidi in all its glory
Anyone who's visited Galaxidi will tell you the first thing you'll experience is the beauty of life in the slow lane; peaceful and quiet. While you're there, don't forget to try the local dish Kelemia; mouth-watering onions stuffed with freshly ground meat. We will organise a group meal, so you can get to know your other sailing companions and discuss the day's experiences.
Did you know?
Up until 1963, the town could only be accessed by boat from Itea.
The Island of Trizonia
Day 3 comprises of a shorter sail to the unique island of Trizonia, the Gulfs' only inhabited island. It's good to get there around lunchtime, stretch your legs and explore this lovely place, visit its ancient churches and sites or sample the many lovely beaches on the island. The infamous Punta beach is a small hidden gem, covered in red pebbles - it makes for the perfect romantic stroll.
Did you know?
No cars or motorised scooters are allowed on the island.
The fourth day kicks off with a 36 mile sail to Messolonghi, otherwise known as "the town between two lakes." On this leg, you will pass under the impressive Anti Rion Suspension Bridge; the world's longest, fully suspended, multi span, cable stayed bridge, spanning 3Km across the Gulf.
Did you know?
This one's for the poetry enthusiasts - Messolonghi is where Lord Byron lived and died.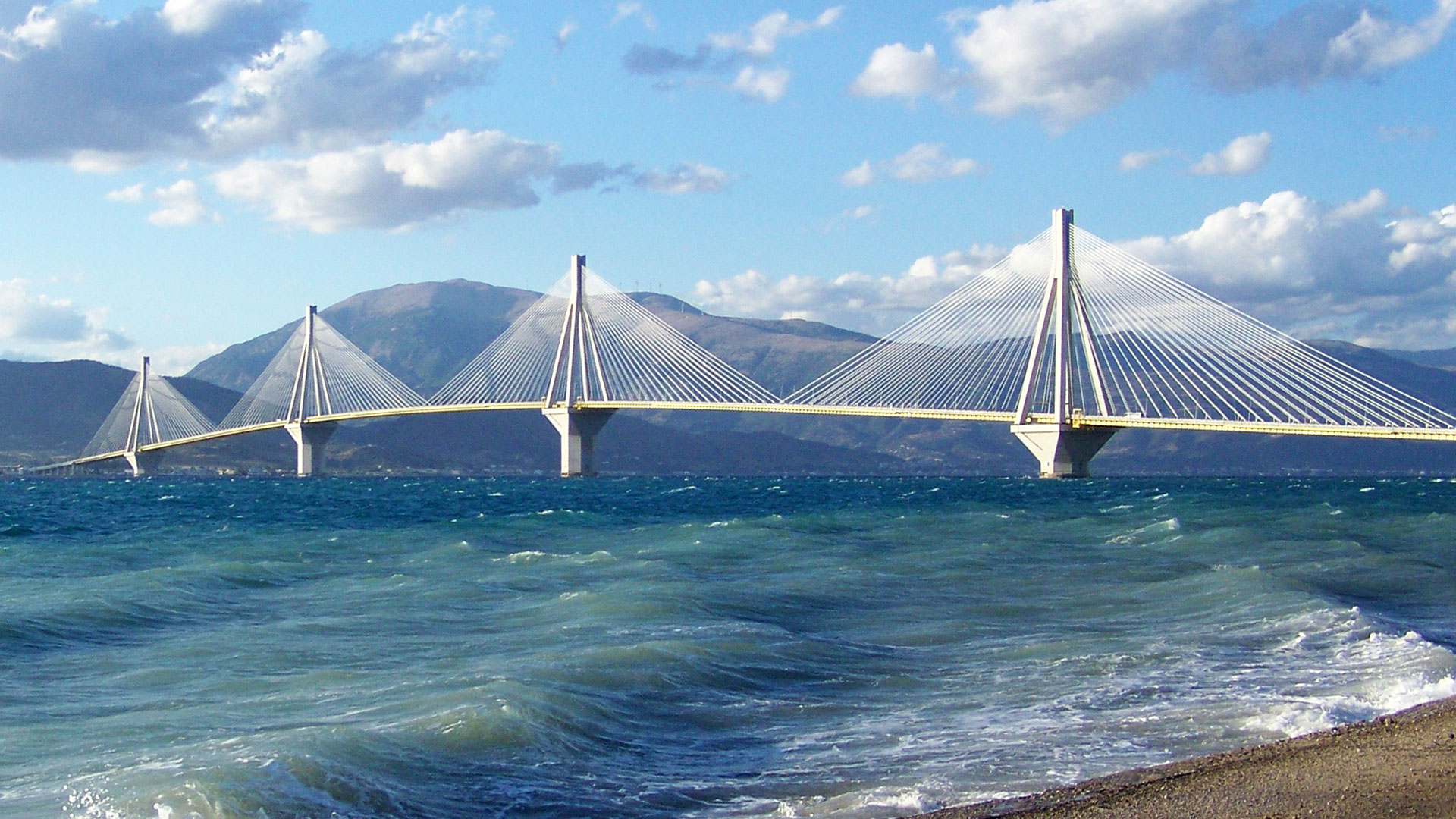 The majestic Anti Rion Suspension Bridge
Day five is a journey to the south, a 32 mile sail to the port of Astakou, our entry point to the Ionian. This will be a nice relaxed stop where nothing seems to be too fast paced. Also a lovely place to go for a walk along the seafront taking in some of the stunning views.
Day six brings us to our last long voyage; 29 miles to the stunning Varko bay! Varko boasts their white sandy beaches- the lustrous blue waters make it irresistible to take a dip. For those who like to explore, conquer a 3.5 KM walk along the road to the village of Pogonia. After Varko, we'll sail into Lefkas Marina where you will be spending your final night. Here you can explore its many shops, restaurants and bars. And of course join us for a farewell drink, and a final presentation and awards ceremony. A bit of fun which everyone enjoys!
The Dufour 382
Travel and transfers
We will organise all your travel and airport transfers to and from Alimos marina and Lefkas marina. We fly from Gatwick to Athens and back from Preveza to Gatwick the following Sunday.
The best bit is that we are offering a great discount of 50% off our normal flotilla prices. About half the flotilla is full and the remaining boats available are our Dufour 365; Dufour 385; Dufour 382; Oceanis 37; Sun Odyssey 439. Call us now on 020 3949 8363 to learn more.
Deliver Route Fact box
Book now for 50% off!
July 7-14, 2019: Athens to Lefkas
September 1-8, 2019: Lefkas to Athens
194 miles total
35 hours of sailing (5-7 hours day)
Qualifications required: Day Skipper or ICC
Back to Blog